Bank Jatim handed over CSR for the construction of an Anjungan Dukcapil Mandiri and UMKM equipment to Pamekasan Regency Government
Date: 18 september 2023
Categories :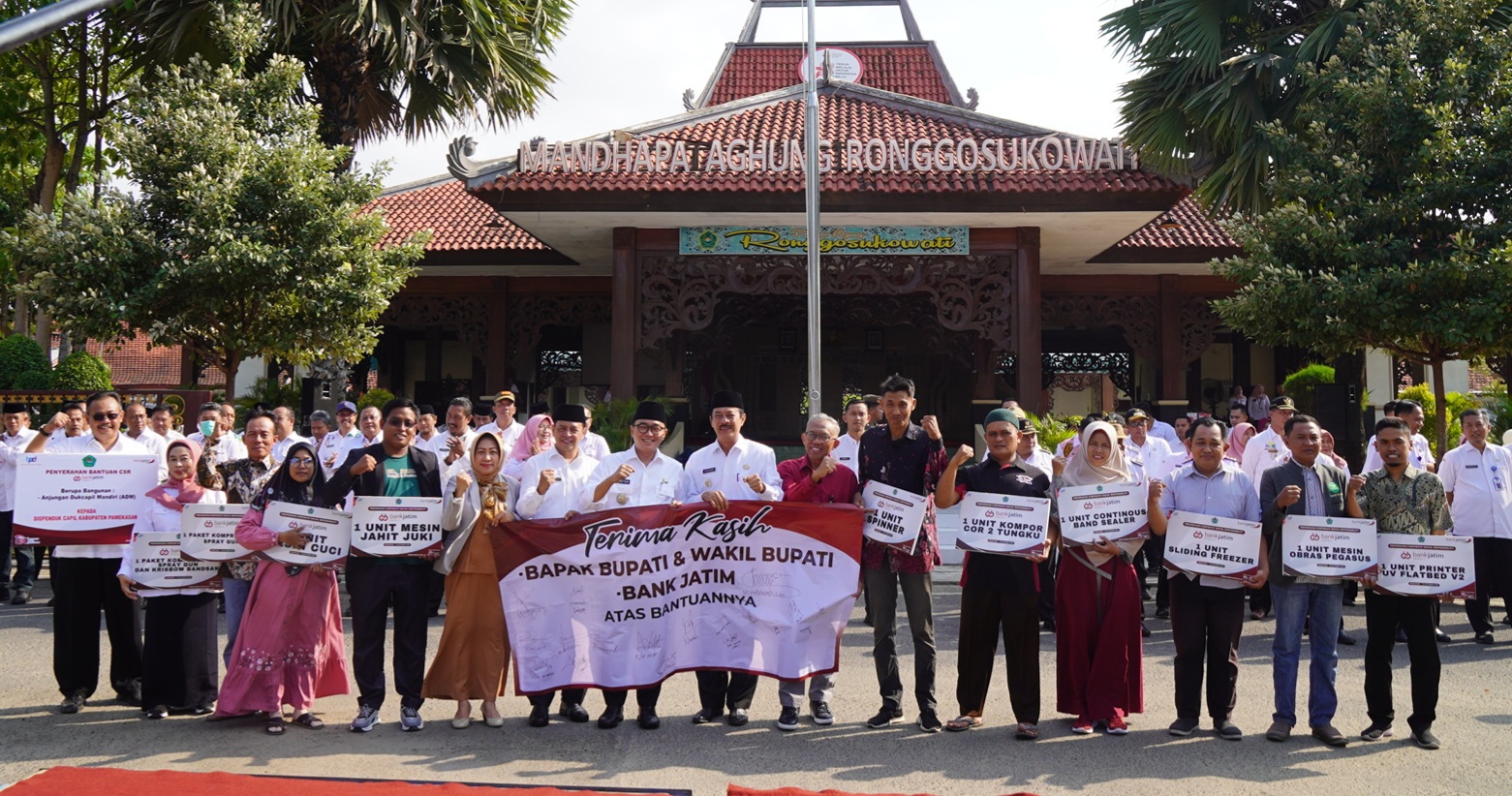 PAMEKASAN, September 18, 2023. PT Bank Pembangunan Daerah Jawa Timur Tbk or bankjatim has officially handed over Corporate Social Responsibility (CSR) assistance to the Pamekasan Regency Government (Pemkab) on Monday (18/9). The assistance provided was in the form of the construction of the Independent Dukcapil Platform (ADM) and MSME equipment. Located at Nagara Bhakti Field, Pamekasan Regency Hall, the CSR handover was carried out symbolically by bankjatim Risk Management Director Eko Susetyono to Pamekasan Regent Baddrut Tamam. Also present on the occasion was the Deputy Regent of Pamekasan Fattah Jasin.
Eko said, this CSR assistance is a tangible manifestation of the synergy between bankjatim and Pamekasan Regency Government and at the same time as a form of corporate social responsibility to the community. "We hope that the construction of ADM and MSME equipment can improve welfare and strengthen the economy of the people in Pamekasan and at the same time support one of the Pamekasan Regent's Priority Programs in fostering new entrepreneurs," he explained.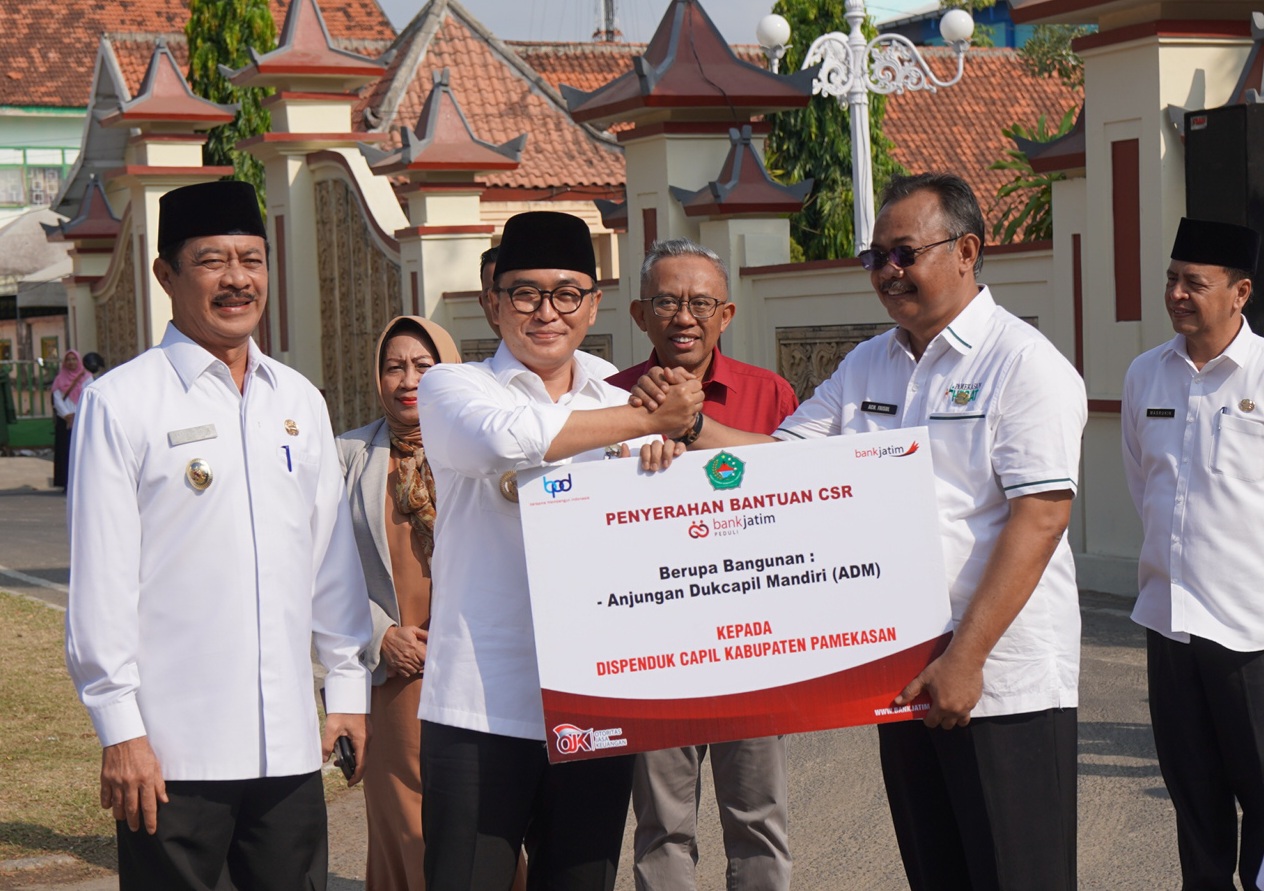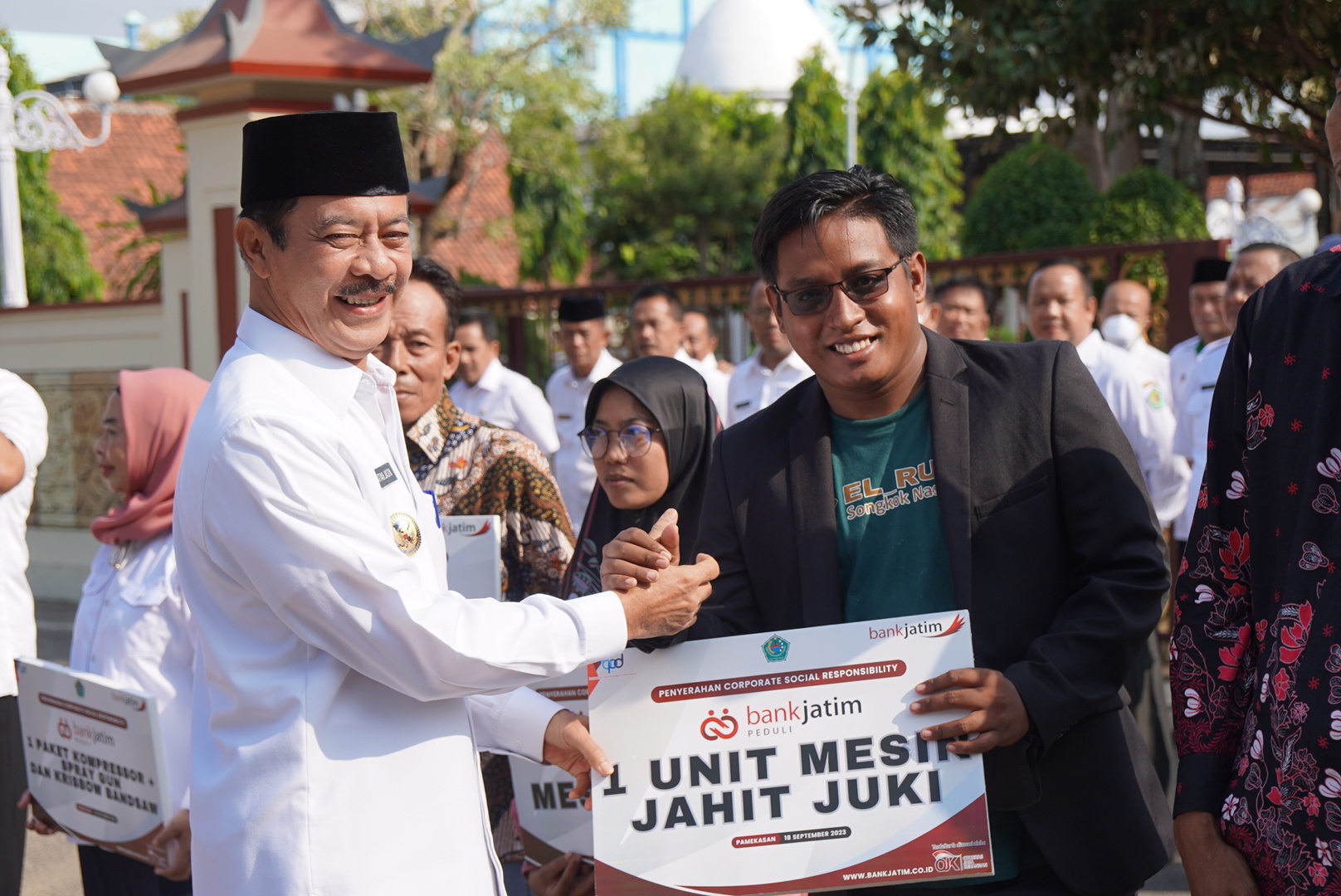 .
According to Eko again, MSMEs are the backbone of the economy of East Java Province so their existence must be truly supported and considered. Each year, the MSME sector has made a major contribution to economic growth and job creation. "Therefore, bankjatim is committed to always be present in supporting and providing solutions for the development of MSMEs. Not only support in the field of funding, but we also present solutions for the development of MSMEs in East Java both in terms of promotion and market access, "he stressed.
Then Eko also added, related to the ADM development assistance provided to the Pamekasan Regency Government, it is hoped that it can increase the speed of population administration services to the community. "With this ADM, community administration affairs will be much easier and faster because the community can print population documents independently," he explained.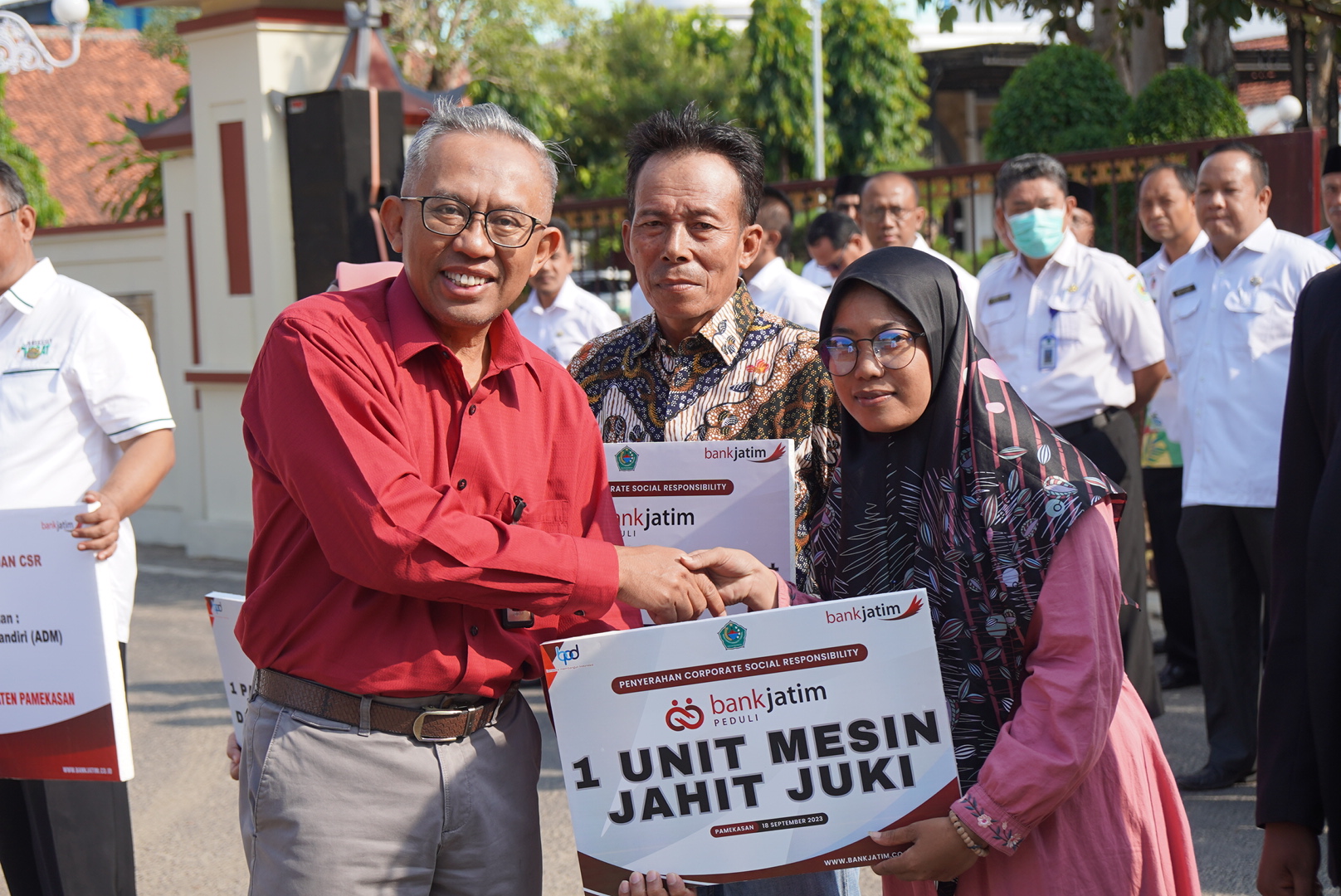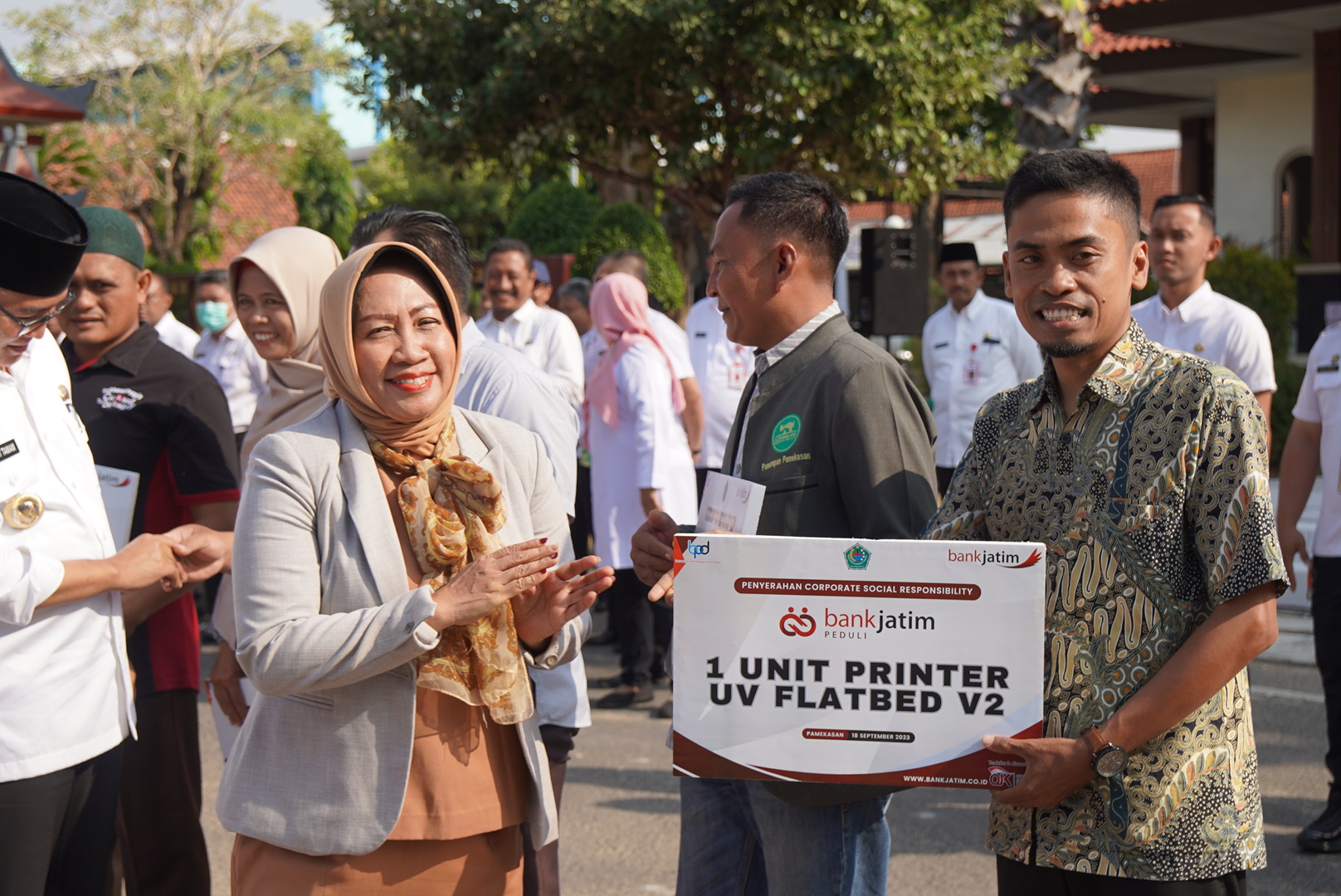 As for bankjatim, which is the bank of the people of East Java, it is not only focused on increasing business, but also committed to pursuing value that is beneficial to society. One example is through the Bank Jatim Cares CSR program. "It is an obligation for us to always synergize in building and encouraging an area in East Java so as to improve the welfare of the people," he said.
On the occasion, Baddrut gave his highest appreciation to bankjatim for the cooperation that has been established so far. "Hopefully this cooperation in the future can continue to be improved. We will utilize this assistance as well as possible to support and serve the community," he said.