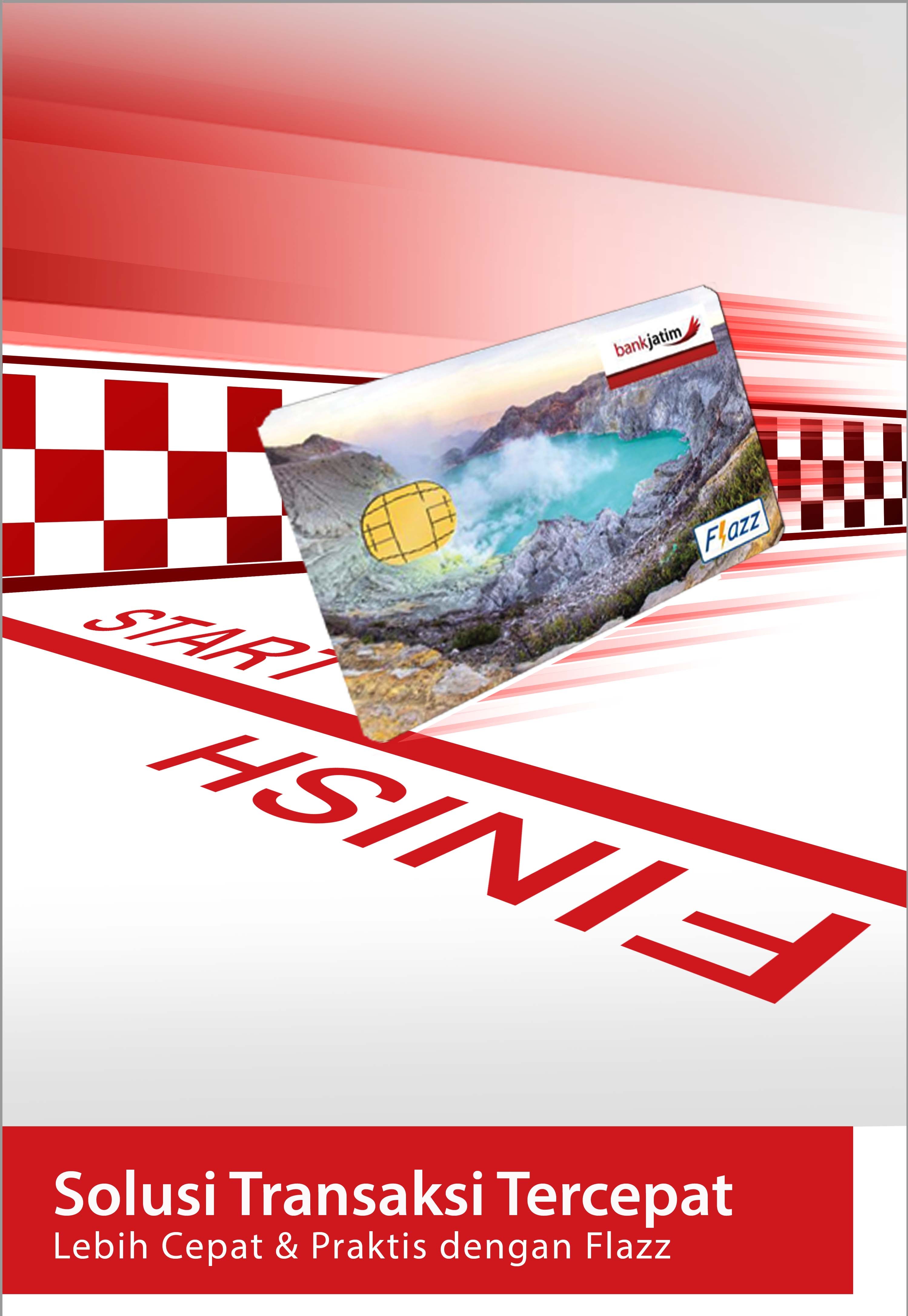 Bank Jatim Flazz Card is a Multipurpose Prepaid Card, co-branded together with Bank Central Asia (BCA), using the latest RFID technology to provide a safe, fast, and comfortable payment method.
Card Specifics
Bank Jatim Flazz Card Issuance Fee Rp.25.000,00
Bank Jatim Flazz Card Minimum Top-Up Rp50.000,00 with maximum balance of Rp1.000.000,00
Check Balance
Please put Bank Jatim Flazz Card onto Card Reader to check current balance which can be done in any ATM BCA Non-Tunai, Top Up Center Flazz, and ECD machines located at merchants that supports Flazz.
Top Up
You can Top Up your Bank Jatim Flazz Card using the following methods; :
Cash: Select Bank Jatim Branch and/or Bank Jatim Branch that sells Bank Jatim Flazz Card, Alfa Express, Alfamart, Alfa Midi, Es Teller 77, Lawson, and Toko Buku Gramedia
Paspor BCA: Select Bank Jatim Branc, BCA Branch, ATM BCA Non-Tunai, Top Up Center Flazz, and/or EDC machines located at merchants tha support Top Up Flazz such as; Alfa Express, Alfamart, Alfa Midi, Circle K, Es Teller 77, Indomaret, Lawson, Solaria, Superindo, Toko Buku Gramedia, etc.
How to use Bank Jatim Flazz Card
During payment, have your card ready and put it onto the card reader. If payment is succesfully made, a receipt will be printed and your balance will be deducted..
Characteristics of Bank Jatim Flazz Card
Compliance to Bank Indonesia regulations, Bank Jatim Flazz Card is NOT a saving card specified in Banking Regulatory. Any funds stored in the card is not covered by Lembaga Penjamin Simpanan (LPS). No fund is recoverable nor reimbursable when any Bank Jatim Flazz Card is lost.
Bank Jatim Flazz Card Closure
Card closure can be applied by cardholder by submitting one's Bank Jatim Flazz Card to select Bank Jatim Branch. Any balance will be transferred to cardholder's account in Bank Jatim or in cash at most 14 (fourteen) working days since closure application is submitted
Bank Jatim Flazz Card Mercants :
Batik Solo Trans - City Trans - Day Trans - Express Taksi - ISS - Secure Parking
SPBU Pertamina - SPBU Shell - SPBU Total - Stasiun Bandara Kereta Kuala Namu
Stasiun Bandara Kereta Medan - Tol Makassar - Tol Surabaya - Gresik
Trans Jakarta - Trans Jogja - Trans Metro - Trans Musi - Trans Pakuan - X-Trans
A&W - BreadLife - Chatime - Dunkin Donut - Es Teler 77 - Hoka-Hoka Bento
Holland Bakery - Hop Hop - Sate Kha Senayan Express - Solaria - Starbucks Coffee
Yoshinoya
Alfa Express - Alfamart - Alfa Midi - Bright C-Store - Circle K - Family Mart
Giant - Hypermart - Indomaret - Lawson - Super Indo - TheFoodHall - 7 Eleven
99 Ranch Market
Ace Hardware - Amazone - Century Helath Care - Cinema XXI
Disc Tarra - Guardian - Paper Clip - Timezone - Toko Buku Gramedia
Toko Buku Gunung Agung - Toko Buku Toga Mas
Get your Bank Jatim Flazz at select Bank Jatim Branches below: :
Kantor Cabang Bank Jatim Cabang Utama Surabaya, Cabang Dr. Soetomo, Cabang Perak, Cabang HR Muhammad, Cabang Gresik, Cabang Sidoarjo, Cabang Malang, Cabang Jakarta, Cabang Syariah Surabaya, and 37 Kantor Cabang Pembantu at Surabaya, Gresik, Sidoarjo, Malang, and Jabodetabek.